As part of the wider Uniting Church, Kippax seeks to bring God's vision of a reconciled world into the present, to reflect God's love for everyone, work for justice and peace and follow the example and teachings of Jesus Christ who taught what it means to love your neighbour and your enemy, called on his disciples to heal the sick and give to the poor, and who himself challenged the systems and structures of oppression in his society. In all of this, we are called to act with integrity, ensuring that our words and our deeds are aligned.
In the past year, members of the Kippax congregation have joined in protests calling for climate action, justice for refugees and asylum seekers and the women's March4Justice.  
We have also joined the Australian Religious Response to Climate Change letter writing campaign** calling on our Federal Government to take stronger action on climate change and held a forum as part of Uniting's Fair Treatment campaign which calls for drug law reform based on best practice and evidence, and treatment being available for all who seek it.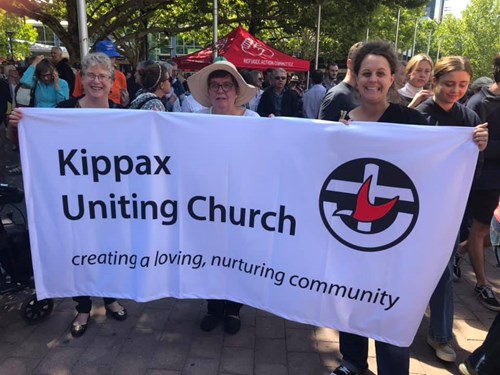 ** Want to join our letter writing campaign?  
2021 Letter Writing Project – THE ENVIRONMENT     
Important Considerations:
If you wish to share your opinion you absolutely can, but you should not expect to receive a response.  If you want to be heard and considered, ask questions that the Member of Parliament must reply to. 
Be polite and reasonable. If you are 'too passionate', if phrasing and/or language is perceived to be inappropriate (and it need only be perceived by the reader as being rude, insulting or sarcastic) the correspondence is unlikely to be looked at responded to. 
If your question relates to your opinion and what you think, for example, tax payer monies should be spent on improving staffing in age care institutions rather than the new development of the Australian War Memorial, you will likely be dissatisfied with the response that some poor public servant will need to write in response, and that the Minister, Member or Senator will read and then sign.
Here's an example of how you might frame a letter to the Minister for the Environment Ms Sussan Ley:
     Climate change impacts on coral reefs are predicted to worsen and critically affect the survival of coral reefs globally without the strongest possible climate change mitigation. 2016-2017 saw the Great Barrier Reef experience two consecutive years of severe mass coral bleaching. Sadly, there have been many years of issues before these years and after them.
     The recent UNESCO produced report said Australia's progress on the Reef 2050 Plan "has been insufficient in meeting key targets".  They also stated that the plan requires stronger and clearer commitments, in particular on urgently addressing threats from climate change, and improving water quality and land management.
     You have established a marine authority and spent millions of dollars on programs to mitigate the changes to the Reef, so how is it that we are not making progress?  How is it that you were so blindsided by the United Nation's recommendation to list the reef as in danger?  Can you please advise me what argument that you put forward that made the UNESCO committee change their mind and not to list the reef as in danger?  What were the assurances you gave the UN experts?  And what were the politics you said had perverted proper process? And finally what evidence is there that Australia's reef was singled out as you have public stated?
     We clearly need to race to save this natural wonder that is in our stewardship.  Why is the Australian Government putting barriers in the way of doing this?
ACT Representatives to Parliament  (Members and Senators)
Name

Email/Mail

Portfolio Responsibilities

Senator Katherine (Katy) Gallagher

 

ACT ALP

Unit 3, 40 Corinna Street, Phillip ACT 2601

senator.katy.gallagher@aph.gov.au

 

Manager of Opposition Business in the Senate

Senator the Hon Zdenko (Zed) Seselja

 

ACT LIB

PO Box 705 Gungahlin ACT 2912

Email: senator.seselja@aph.gov.au

 

Minister for International Development and the Pacific

 

The Hon Dr Andrew Leigh

Member for Fenner

 

ACT ALP

 

Shop G&H, 33 Hibberson Street, Gungahlin ACT 2912

Andrew.Leigh.MP@aph.gov.au

 

 

Mr David Smith

Member for Bean

 

ACT ALP

205 Anketell Street, Tuggeranong ACT 2900

David.Smith.MP@aph.gov.au

 

 

Payne, Ms Alicia Emma Canberra

 

ACT ALP

221 London Circuit, Canberra ACT 2601

Alicia.Payne.MP@aph.gov.au

 
Independent Members and Senators
Mr Andrew Wilkie TAS IND

 

PO Box 32, Hobart TAS 7001

 

 

Steggall, Ms Zali OAM Warringah, NSW IND

 

PO Box 450, Manly NSW 2095

Zali.Steggall.MP@aph.gov.au

 

 

Kelly, Mr Craig Hughes, NSW IND

PO Box 1014, Sutherland NSW 1499

Craig.Kelly.mp@aph.gov.au

 

 

Dr Helen Mary Haines

Member for Indi VIC IND

79 High Street, Wodonga VIC 3689

Helen.Haines.MP@aph.gov.au

 

Senator Rex Patrick

SA IND

Level 2, 31 Ebenezer Place, Adelaide SA 5000

senator.patrick@aph.gov.au

 

Senator Jacqui Lambie

IND TAS

PO Box 256 Burnie TAS 7320

 

 
Minor Party
Senator Pauline Hanson

QLD PHON

GPO Box 228 Brisbane QLD 4001

senator.hanson@aph.gov.au

Leader of the Pauline Hanson One Nation Party

Mr Adam Bandt MP

296 Brunswick Street, Fitzroy VIC 3065

Adam.Bandt.MP@aph.gov.au

 

Leader of the Australian Greens
Members and Senators whose portfolio includes environmental considerations
The Hon Angus Taylor MP

PO Box 700, Goulburn NSW 2580

Angus.Taylor.MP@aph.gov.au

 

Minister for Energy and Emissions Reduction

The Hon Sussan Ley MP

PO Box 672, Albury NSW 2640

Sussan.ley.MP@aph.gov.au

Minister for the Environment

The Hon Keith Pitt MP

PO Box 535, Bundaberg QLD 4670

Keith.Pitt.MP@aph.gov.au

Minister for Resources and Water

The Hon Christopher Bowen

PO Box W210, Fairfield West NSW 2165

Chris.Bowen.MP@aph.gov.au

Shadow Minister for Climate Change and Energy

Ms Terri Butler MP

PO Box 737, Coorparoo QLD 4151

Terri.Butler.MP@aph.gov.au

Shadow Minister for the Environment and Water

 

Ms Madeleine King MP

PO Box 5062, Rockingham Beach WA 6969

Madeleine.King.MP@aph.gov.au

Shadow Minister for Resources

Mr Patrick Conroy

PO Box 499, Belmont NSW 2280

Pat.Conroy.MP@aph.gov.au

Shadow Minister assisting for Climate Change

 

Senator the Hon Jonathon Duniam

GPO Box 453 Hobart TAS 7001

senator.duniam@aph.gov.au (03) 6231 2444

 

Assistant Minister for Forestry and Fisheries 

 

The Hon David Littleproud MP

PO Box 641, DALBY QLD 4405

David.Littleproud.MP@aph.gov.au

Minister for Agriculture and Northern Australia

The Hon Barnaby Joyce

PO Box 963, Tamworth NSW 2340

Barnaby.Joyce.MP@aph.gov.au

Deputy Prime Minister and Minister for Infrastructure, Transport and Regional Development